If you expected a blog post about the Rays visiting Cuba you are wrong. 🙂 Almost all of the mainstream press, if not ALL of them is reporting about the historical visit that the Rays are paying to Cuba. What is left for me te add?
Therefore I come up with something completely different.
The Lehigh Valley IronPigs, AAA team of the Philadelphia Phillies will have a theme night on June 10,  when they honor their parent club. Of course they could have taken the easy way out by having a Liberty Bell night or a Rocky Balboa night. But this club chose to do it the hard way by having food as a promotional item.
On June 10, the IronPigs will rename themselves the Lehigh Valley Cheesesteaks for one night.
The team will wear black jerseys with the name Steaks splattered all  over it. The  yellow spaltter represents the cheese that covers the sandwich.
With the black jersey comes a cap that sports the famous Philly sandwich on the front. The same sandwich is sewn on the left sleeve of the jersey.
But the marketing machine of the Iron Pigs, errr, the Cheesesteaks has thought this over very well. As some people like their cheesesteak with onions, others like it without. Therefore the marketing people launched a website to let the fans decide whether the team shoud wear a cap with a cheesesteak wit onions or one witout:
http://www.lvcheesesteaks.com/
So there is a vote attached to this theme night. You can bet that fans will flock to the stadium to see the outcome.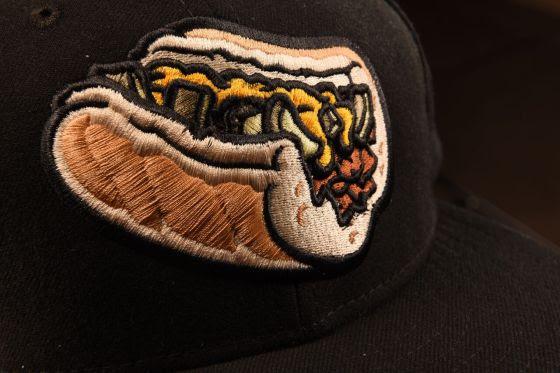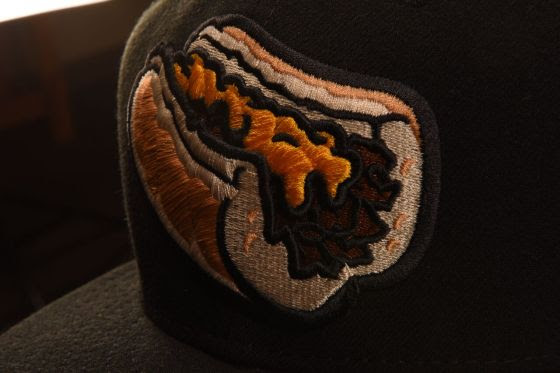 During the salute to Philly night, the Phillies mascot, the Phillie Phanatic will pay the ballpark a visit.
IronPigs general manager Kurt Landes stated the following pun:
"Today, we've officially raised the Steaks. As a Phillies affiliate, we can't wait to celebrate all things Philadelphia, including the iconic cheesesteak on 'Salute to Philadelphia Night.'"


The fans are urged to join team Wit or team Witout by twittering #TeamWit or #TeamWitout. With twittering, the fans can win a complete Cheesesteaks package.
I tweeted #TeamWit, so they can send the package to the Netherlands now. 😉
But the action to name a team after food for one night is not unique. The Fresno Grizzlies donned the name Tacos last year for one night, as they will do again this year because the promotion was a huge success. The merchandise was red hot.
And when it comes to teams named after food, since 2004 there is a minor league team that is named after food. Not just for one night. That team is the Montgomery Biscuits, which happens to be my favorite team.
But then again, the whole promotion with the voting and the Twitter thing wiht which you can win a package is simply a brilliant marketing move.