On the third day of the European Champions Cup the following games were scheduled:
Heidenheim Heideköpfe vs Fortitudo Bologna,  Regensburg Legionäre vs L&D Amsterdam Pirates, T&A San Marino vs Curacao Neptunus and Kotlarka Prague vs A.S.D. Rimini Pirates. Despite not making it to the semi-finals, the German teams left a good impression for sure.
Buchbinder Legionäre  0  –  1  L&D Amsterdam Pirates
It was a narrow escape for L&D Amsterdam Pirates. Once again Regensburg showed that German baseball is no pushover anymore. Yesterday Regensburg gave A.S.D.
Rimini Pirates a hard time already. Today L&D Amsterdam Pirates had to bring everything in play to clinch a win.  For six innings both teams did not score despite having runners in scoring position several times. Regensburg was even very close at scoring a run in the third inning when Elias von Garssen got on base on a fielder's choice when Michael Duursma threw towards home where Rashid Gerard tagged out Nino Sacasa.
But in the seventh inning, Pirates pushed forward and got runners in scoring position. When David Brandl took over on the mound he threw a wild pitch that allowed Kenny Berkenbosch to score from third base. This would be the only run that Pirates would score. Since the runs did not come cheap, so didn't the hits. In fact Pirates was outhit 3 to 1 by Regensburg. Rashid Gerard was the only player of L&D Amsterdam Pirates to get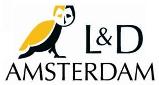 a hit in two at bats.
Robin Schel lasted eight full innings for L&D Amsterdam Pirates in which he gave up three hits, a walk and struck out two.
Jan Tomek took the loss as he gave up one unearned run in 6.1 innings. Tomek walked four and struck out five.
Thanks to this win, L&D Amsterdam Pirates advances to the semi-finals undefeated.
Heidenheim Heideköpfe  1  –  2  Fortitudo Bologna
In this rain shortened game, Heidenheim had a 3-2 lead as they scored two runs in the top
of the seventh, but due to the rainfall in the seventh inning, the game was called and the score at the end of the sixth inning was valid.
So Bologna won with two runs to one. Rather lucky as this German team also showed that German baseball isn't a pushover any longer.
In the third inning, Alessandro Grimaudo drew a lead off walk, stole second and advanced to third base on a fly out to right field by Francesco Fuzzi. Martin Mondino hit a sac fly to drive in Grimaudo for the opening run.
In the top of the fourth, Heidenheim tied the game when Simon Guehring homered to left field. But eventually what appeared to be the winning run, was scored in the bottom of the sixth when Alessandro Vaglio hit a sac bunt to advance Tyler LaTorre to second base and Alex Sambucci to third. When Paolino Ambrosino singled to the shorstop, Sambucci scored the go-ahead run. 

Luca Panerati earned the win after a "complete" game of six innings in which he gave up one run on two hits and a walk. He also struck out four.
Marcel Giraud took the loss after 2.1 innings in relief. He gave up the winning run on two hits, walked two and fanned one.
Best hitter for Bologna was Paolino Ambrosino who collected two hits in three at bats. He also drove in a run. 
T&A San Marino    –    Curacao Neptunus
With both teams in a must win situation, Curacao Neptunus took a quick lead in the first inning as Dwayne Kemp scored on Gianison Boekhoudt's double to left field. 
But San Marino would take the lead in the fourth inning when Wullians Vasquez hit a two run homerun to right field. In the sixth, San Marino extended the lead with one more run. But Curacao Neptunus would seize its last straw in the seventh and the ninth. In the seventh they scored a run when Christian Diaz scored from second base on Stijn van der Meer's single through the left side. Two innings later Neptunus would tie it all. Rien Vernooij drew a walk, advanced to second on a ground out and scored thanks to a fielding error committed by Joseph Mazzuca. So once again the dreaded tie-breaker was needed. San Marino practiced the classic scenario as they advanced the two runners with a sacrifice bunt. Simone Albanese scored on a wild pitch by Loek van Mil.
With Neptunus' turn in the tenth inning, Daniel Fernandes loaded the bases as he was hit by a pitch. Ludovico Coveri kept struggling as gave up a bases loaded walk to Raily Legito. With the bases loaded and no outs, Coveri was replaced by Enrico Crepaldi. But the pitching change didn't help as Gianison Boekhoudt walked in the winning run.
Loek van Mil earned the win after three innings in relief. Van Mil gave up one unearned run and struck out four.
Ludovico Coveri took the loss as he allowed the game winning run to get on base.
Best hitter for Curacao Neptunus was Christian Diaz, who went 2 for 4.
A.S.D. Rimini Pirates4    –  0  Kotlarka Prague
After last night narrow escape vs Regensburg, Rimini already clinched a spot in the semi-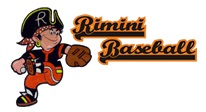 finals.
Without really flexing their muscles, Rimini clinched a steady victory. Four one run innings sealed the fate of Kotlarka Prague.
What could Kotlarka Prague do on their turn? Not much. In general the team never got further than second base but in one occasion Jakub Sladek reached third base because of a walk with runners on first and second but he could not score as Adam Matsuka grounded into a force out at second base for the final out of the sixth inning.
Tomaso Cherubini lasted five ininngs for Rimini and earned the win by striking out five, walking four and allowing just two hits.
Roberto Corradini pitched 3.1 innings and thus earned the save. He gave up three hits and struck out one. 

Roldan Ochoa, who gave up four runs (two earned) on ten hits, took the loss. Ochoa walked one and struck out seven.
Best hitter for Rimini was Ennio Etrosi with four hits (two doubles) out of five at bats. 
L&D Amsterdam Pirates finished in first place of group B, followed by A.S.D. Rimini Pirates. Fortitudo Bologna finished in first place of group A and Curacao Neptunus clinched the second spot with a narrow escape.
The semi-finals will be:
L&D Amsterdam Pirates vs Curacao Neptunus and Fortitudo Bologna vs A.S.D. Rimini Pirates.