By now this is old news already, but I have totally missed it. Bad news for L&D Amsterdam Pirates, good news for the rest of the Dutch Hoofdklasse.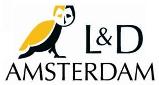 Baseball website Grand Slam Stats & News announced this on June 12. Kevin Heijstek injured himself during the final of the European Champions Cup as he covered first base. At first it looked that he just had pulled a hamstring, but now the injury appears to be much more serious. According to the pitcher, there is a little tear in his left hamstring and therefore Heijstek will need to rest for the remainder of the season.
Next to Heijstek, Pirates is still without ace Rob Cordemans, who is still recovering from a shoulder injury. If that isn't enough, Kyle Ward also suffered from a mild injury. Ward still pitched with the European Champions Cup and started last Saturday as well, but it remains to be seen if this injury has healed enough.
Even though their two best pitchers are out now, Pirates will try to fill the voids from within with home grown talent, perhaps as spot starters.
Heijstek was the number one starter of all three game series in the first half of the season and was one of the best starters in the Hoofdklasse with a 1.80 ERA.
Because of this injury, Heijstek will also miss the European Championship tournament, which will be held in the Netherlands in September. Now Heijstek is focusing on getting ready before the start of the 2017 World Baseball Classic.