Today the first game of the series between L&D Amsterdam Pirates and HCAW was played. This game was rained out on Thursday.
HCAW  2  –  4  L&D Amsterdam Pirates
In a relative close game, HCAW took the lead in the second inning as the team got on the
board with two outs thanks to back-to-back-to-back singles and a throwing error by 3B Jesse Aussems. But back-to-back walks and a single to center field by Koen Nooij, put Pirates on the board for the tie.
A two run third inning gave Pirates a 3-1 lead. As Jesse Aussems struck out on a wild pitch, he still could reach first base safely. Nick Urbanus followed with a single to center field. A sacrifice bunt by Gilmer Lampe advanced both runners. When Kenny Berkenbosch doubled to left center field, he drove in both Aussems and Urbanus.
In the top of the fifth inning, Rossini Frolijk cleared the right field fence with a solo shot to bring HCAW within one run of Pirates.
Eventually in the sixth inning Remco Draijer grounded out 4-3 with the bases loaded and drove in Kenny Berkenbosch for the insurance run.
In the top of the seventh, HCAW had a chance to score with a runner on third (with two outs, but when Vince Rooi popped up to left field, Dennis Burgersdijk got out of the inning without any damage.
Burgersdijk lasted seven innings in which he gave up two runs (one earned) on seven hits, walked two and fanned eight for the win. Jim Ploeger lasted eight innings but, despite a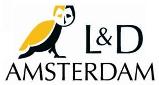 good outing in which he allowed four runs on five hits and in which he walked two and struck out six, he was tabbed with the loss.
Tom de Blok retired the side in the ninth for the save.
Best hitter for L&D Amsterdam Pirates was Danny Rombley, who went 2 for 4. Most impact though had Kenny Berkenbosch, who went 1 for 2 with a double, two RBI and a run scored.
Thanks to this win L&D Amsterdam Pirates climbs to the second spot in the standings. They have the same number of victories and losses as Vaessen Pioniers. Pirates is only separated from second place by a run differential of one run as it has only one run for than Pioniers (62 vs 61). Both clubs are within one win from first place Curacao Neptunus.