In their first game of this year's World Cup Tournament, the Dutch ladies have beaten India 9-2. At the baseball complex in Gijang City, Korea, it was a low number of hits but high number of walks.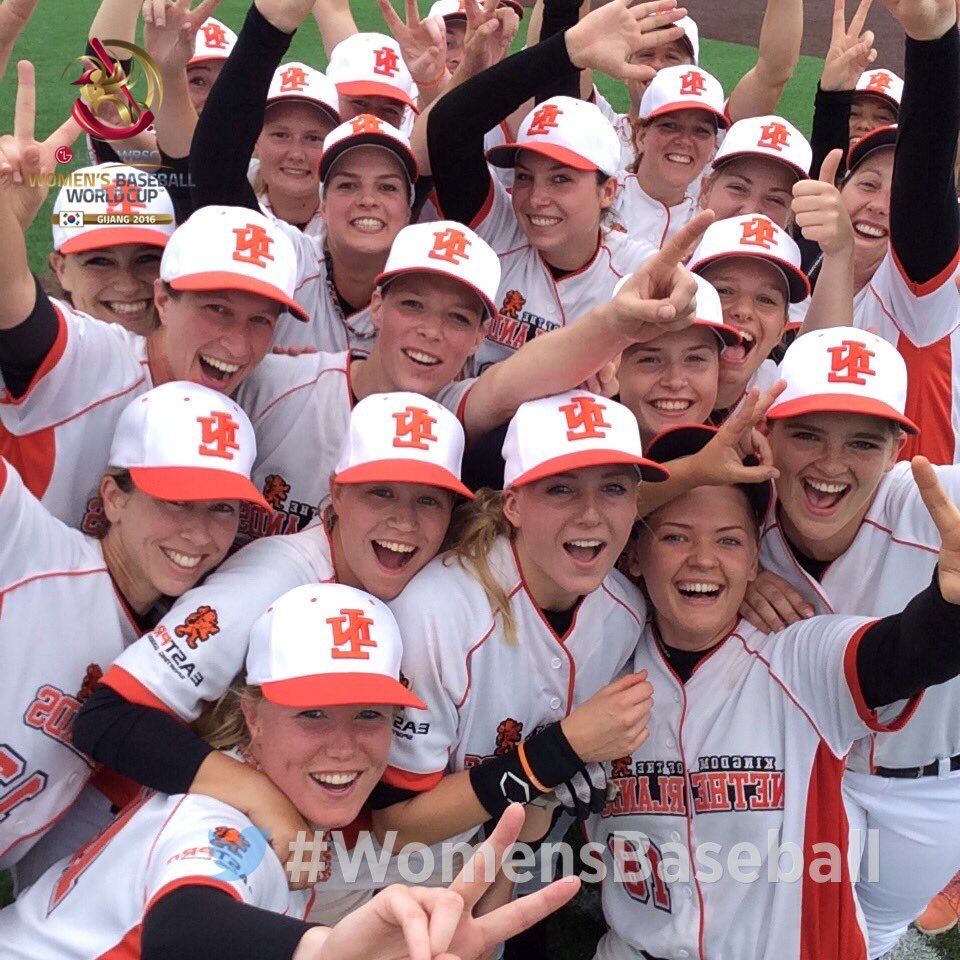 Story of this game is that Indian collected more basehits than the Kingdom of the Netherlands (6-4), but the sub continent was outscored 9-2 by the Dutch ladies.
It also was a story about lack of control by the pitching. The starting pitcher of India, Chittari Chandu Priya, allowed eight walks. Her successor, Girija Sunil Bodekar gave up just one free pass. Dutch starting pitcher Maud Werkman gave up five walks in three innings. She also struck out two. Her successor on the mound, Anouk Vergunst also issued three walks and struck out one.
The Dutch were clearly better with delivering when it mattered most. The Dutch ladies left six runners on base, India ten. Annemiek Koehorst went 2 for 2 with a double and three RBI. While India scored a run in the first and one in the third, the Dutch had three consecutive three run innings to seal the fate of their opponent. With timely hitting and aggressive baserunning, the Dutch managed to clinch the win.
India scored a run thanks to a bases loaded walk in the first. It took the Dutch until the second inning to turn the tables. Sofie van de Wiel drew a walk to get on base. After a stolen base and a passed ball, she ended up on third base before she scored on Sacha Egas' single to the shortstop. After Sacha Egas stole second, Annemiek Koehorst drew a walk. Kyra van Genderen then laid down a sac bunt to advance both runners. When Isabelle Markies hit towards third base, the thirdbase woman of India attempted to throw out Sacha Egas at homeplate but committed an error on wich Egas and Koehorst could score.
An defensive action of the Dutch that is worth mentioning was in the third inning when India had a runner on first (Baharati Kuiro Gaonkar). When Mona Kusamakar flied out to center field, Gaonkar was bowled off first base for the second out of the inning, but despite two outs, India managed to score another run.
In the bottom of the third, Annemiek Koehorst drove in the fourth Dutch run with a bases loaded single. Kyra van Genderen then hit towards second base, but the second base woman made a fielding error that allowed Sofie van de Wiel to score. Isabelle Markies hit into a force out at third which allowed Sacha Egas to score the sixth run.
The three runs in the fourth inning were a bonus for the Dutch ladies. In fact they were not even necessary as the Indian hitters never got past second base.
Anouk Vergunst earned the win. In three innings of relief she allowed three hits, walked three and fanned one.
Hitting performances of the Dutch ladies:
Sofie van de Wiel: 1 for 2 with a double, an RBI, three runs scored, two walks and three stolen bases.
Sacha Egas: 1 for 3 with an RBI, three runs scored, two walks and two stolen bases.
Isabelle Markies: 0 for 3 with an RBI and walk.
Kyra van Genderen: 0 for 2 with an RBI.