According to the Japanese sports website nikkansports.com, Tom de Blok appears to attract a lot of attention of a Japanese team. With the success of Rick van den Hurk in Japan, it seems that the NPB is looking further than the USA and Central and South America.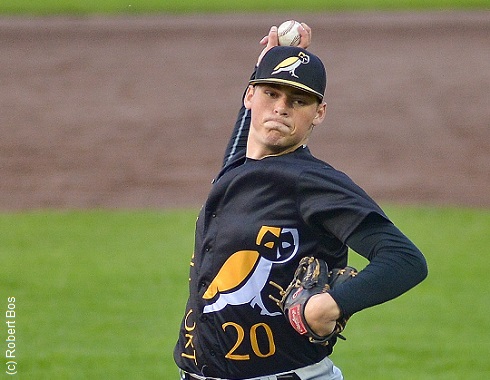 Now teams seem to check out the European continent as well.
This resulted into the fact that the Rakuten Golden Eagles have shown interest in Tom de Blok of L&D Amsterdam Pirates. The tall right hander can easily throw a 93 mph fastball.
The sports website talks about a possible tryout in November, perhaps after the two friendly matches between team Samurai Japan and team Kingdom of the Netherlands. De Blok will join the Dutch team, so when he is in Japan, it is easier to arrange a tryout.
During the regular competition, Tom de Blok had one of the lowest ERAs of the Dutch hoofdklasse. De Blok posted a microscopic 0.88 ERA next to a 5-0 record in 26 relief appearances. In just 41 innings he recorded 43 strikeouts and kept his opponents to an improbable low batting average of .153.
When asked, Tom could not confirm or deny the "rumor" yet.