This is kinda old news as the European baseball site Misterbaseball.com already published it on February 17, but I have missed it completely. Reigning European champion L&D Amsterdam Pirates has acquired Nick Veltkamp. The 33-year old hoofdklasse veteran was one of the few players of Kinheim that had not signed with a new club yet after Kinheim announced to withdraw from the Dutch hoofdklasse for the 2017 season.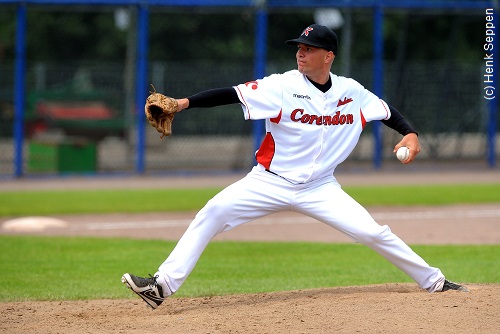 Veltkamp played for Kinheim since 2008 after he debuted in the highest Dutch league in 2007 with Almere '90. Last season, Veltkamp posted the lowest ERA of his hoofdklasse career (1.18). In twenty appearances (one start), he earned six wins and struck out 29 in47.2 innings pitched.
For the biggest part of his career with Kinheim, Veltkamp was used as a starting pitcher. Only in the first three seasons with the club from Haarlem and during the 2016 season, he was used as a relief pitcher.
With this move, L&D Amsterdam Pirates bolster their bullpen, presuming that Nick will be used as a reliever.