On day three of round one, L&D Amsterdam swept DSS, so did Pickles UVV with De Glaskoning Twins and HCAW walked away with the series win vs Hoofddorp Pioniers.
L&D Amsterdam Pirates  11  –  1  DSS

Despite trailing 2-0 in the sixth, DSS could keep pace with L&D Amsterdam Pirates for the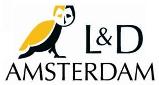 biggest part of the game. In fact, the Amsterdam based team only took a lead in the fourth inning when Gilmer Lampe singled through the left side to drive in Nick Urbanus from second base. Two innings later Zerzinho Croes singled and advanced to third on Kalian Sams single to right center field. Gilmer Lampe got his second RBI with a ground ball single to left field that scored Croes to give Pirates a 2-0 lead. In the next inning Pirates added two more runs.Before DSS scored their sole run in tthe eighth inning, the Pirates offense exploded for scored seven runs to give the team a rather flattered win.
DSS scored on a single to center field, hit by Djewi Appelman.
Kyle Ward pitched seven innings for the win in which he gave up only two hits and
struck out four. Sander Helmendach also pitched a solid game but eventually allowed four runs on eight hits and a walk for the loss.
Best hitter for L&D Amsterdam Pirates was Gilmer Lampe, who went 3 for 5 with two RBI and a run scored.
HCAW  5  –  3  Hoofddorp Pioniers

In a game in which both teams were almost each other's equal, HCAW eventually walked
of as the victor after eleven innings. After the team from Bussum had taken a 2-1 lead in the second inning, Pioniers tied the game in the bottom of the seventh when Jeffrey Arends drew a bases loaded walk that drove in Mark Smit.
But HCAW took the lead again in the top of the eighth inning when Koen Werkman, who pinch ran for Seb Visser, was driven in by Vince Rooi, who singled to right center field.
Once again Pioniers tied the game in the eighth and with the game still tied at the end of the ninth, the game went into extra innings. Even though both teams had runners in scoring position in the tenth, they failed to score. But in the eleventh, HCAW struck once more. Raoell Kortstam hit a lead off triple and scored on Roelie Henrique's single through the right side. A few moments later, Kevin Weijgertse drew a bases loaded walk that gave HCAW a two-run lead. 

Sedley Karel, who took the loss yesterday, retired the side for the save. The win went to Oscar Meuris, who pitched 2.1 innings, in which he walked two and fanned three.
Best hitter for HCAW was Vince Rooi, who went 2 for 2 with two RBI. Vince had a total of six plate appearances and walked in four of them.
De Glaskoning Twins  6  –  7  Pickles UVV
In a cold and windy Utrecht, the handful of spectators saw an exciting game in which the
teams were each other's equal.
De Glaskoning Twins started well as they took the lead in the third inning on a single up the middle, hit by Jamie Verheyleweghen, who drove in Bart Janssen.
But UVV tied the game in the very same inning when Tijmen Takke singled home Rick Kuipers for the unearned run. In the next inning, Reynaldo Sarmiento gave up two more runs to UVV despite his solid game in which he allowed only five hits in six innings.
Trailing 4-2 at the start of the eighth inning, Twins finally came through with runners in scoring position. With Jimmy Osinga on the mound for UVV, Bram Grooten doubled with the bases loaded and drove in three runs to give Twins a sudden 5-4 lead. Grooten himself scored from third on a sac fly by Bart Janssen to right field.
But thanks to a couple of errors in the bottom of the eighth, UVV got within one run of Twins. Eventually the team from Utrecht walked off as winner thanks to a couple of well placed hits that drove in two runs for the walk off win.



Thijs Steenwijk, who pitched 2.1 innings, didn't get the needed help from his defense and took the loss. He gave up four runs (three earned) on five hits and two walks.
Jose Moreno earned the win for UVV. He pitched two frames and gave up a run on two hits and struck out one.
Best hitter for Pickles UVV was Bryce Cherry, who went 4 for 5 with a solo home run that just cleared the right field fence as it was carried by the wind. He drove in two runs and
scored two.
This report was brought to you by Score66 baseball
Here are some impressions of the game between De Glaskoning Twins and Pickles UVV: