On the first day of the second round of the Dutchhoofdklasse season, L&D Amsterdam Pirates hosted Curacao Neptunus, De Glaskoning Twins played its home game on the field of the opponent DSS and HCAW hosted UVV.
Curacao Neptunus  1  –  5  L&D Amsterdam Pirates
In an exciting game in which neither team did not give in, L&D Amsterdam Pirates took
the lead in the second inning. Kalian Sams hit a solo home run to left center field to give the Amsterdam-based team a 1-0 lead. One inning later, Max Clarijs singled on a bunt and advanced to two bases on rare back-to-back wild pitches by Diegomar Markwell. A sac fly to center field, hit by Zerzinho Croes drove in the second run for Pirates.
Rob Cordemans was his old self as he cruised through five innings as he gave up four hits and struck out six. Diegomar Markwell didn't do much worse as he gave up only two hits in six full frames. The six hitters that he walked may be rather much tough.
In the fifth inning, Diegomar Markwell recorded two quick outs but then gave up three consecutive walks to load the bases. Danny Rombley, until then still without a base hit, singled to center field to drive in Sams and Lampe. Pirates added one more run when third baseman Ruar Verkerk committed an error that allowed Kenny Berkenbosch to extend the lead to 5-0.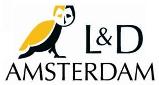 Eventually, in the seventh inning, Curacao Neptunus got on the board. Robin Schel recorded two quick outs but had to surrender a run as Ruar Verkerk scored from second base on a single to left field by Gregory Muller.
Rob Cordemans earned the win after five full innings. Best hitter for L&D Amsterdam Pirates was Kalian Sams, who went 2 for 2 with a home run, a RBI and two runs scored.
Despite the fact that L&D Amsterdam Pirates was outhit 9-4 by Curacao Neptunus, the team kept the win in Amsterdam.

DSS    –    De Glaskoning Twins
De Glaskoning Twins was the home team on the road. Since the team still doesn't have suitable lighting towers, the team is forced to play its Thursday night home games on the
road.
In this game, the score went back and forth. DSS took an early 1-0 lead in the first inning when Jan Evertse could not get out of the inning after recording two outs. With runners on first and second, Tino van Erk singled through the middle to drive in Kevin Nieveld for the opening (unearned) run.
Twins would take the lead in the third inning. With runners on first and second, Jamie Verheyleweghen doubled down the left field line to drive in Bram Grooten. Melvin Perdue tried to score from first base but was nailed at the plate. Verheyleweghen reached third on the play. When Dennis de Quint hit to shortstop Mitchell Dautzenberg, who committed an error, Jamie Verheyleweghen could score the go-ahead run. 

After DSS scored three runs to take a 4-2 lead, Twins bounced back to tie the game again. But in the sixth inning Jan Evertse gave up three hits and was tabbed for three runs. He was replaced by Nick Peels, who gave up a single and a sac fly that led to two of the three runs Jan Evertse was tabbed for. Nick Peels kept Twins in the game in the remaining innings but he had to work his way out of a bases-loaded jam in the top of the eighth though.  Twins could not take advantage of the six errors that DSS committed.
Mike Groen earned the win. In seven innings, he gave up four runs (two earned) on six hits. He walked two and struck out five. Reggie Bomberg retired the side in the ninth for the save. Best hitter for DSS was Tino van Erk, going 2 for 2 with a run scored and two RBI.

UVV  1  –  7  HCAW
The balance in this game was nowhere to be seen as UVV was no match for

HCAW. After HCAW took a 2-0 lead in the first inning, neither team did score until the sixth inning, when HCAW added another run to their total.
In the seventh, the difference between the two teams became all too clear when HCAW scored three more runs. With runners on the corners, Vince Rooi doubled to left field and drove in Seb Visser and advanced Delano Selassa to third base. A single by Kevin Dirksen drove in two more runs for the team from Bussum. 

Eventually, UVV scored their first run of the game in the top of the eighth inning. After Jelle Blaauw drew a walk, Tijmen Takke singled down the right field line and advanced Blaauw to third base. Randy Daal sent Jelle Blaauw home on a single to left field.
In the bottom of the eighth, HCAW pushed again to extend the lead. With two outs Delano Selassa drew a bases loaded walk.
Jim Ploeger earned the win after six innings in which he allowed two hits, two walks and struck out six.


Kevin Dirksen was the best hitter for HCAW, going 3 for 4 with three RBI and a run scored.
This report was brought to you by Score66 Baseball