No surprises today as Neptunus hosted HCAW from Bussum, Hoofddorp Pioniers went to neighboring Haarlem to take on DSS and De Glaskoning Twins took on L&D Amsterdam Pirates in the Dutch capital.
HCAW  0  –  2  Curaçao Neptunus
A win for Curaçao Neptunus but at bat, the team was kept in check most of the time by
the pitching of HCAW, but so it was the other way around. Neptunus collected one hit less than HCAW and scored only two runs for the win. Of course, that's enough for the win, but compared to last night's win, this one was rather slim.
Until the fourth inning, both teams did not score but then Neptunus took a 1-0 lead when Christian Diaz singled on a bunt, stole second and advanced to third on a passed ball. Eventually, Diaz scored on Rien Vernooij's single to third base.
Three innings later Neptunus added another run when Rien Vernooij scored from second base on Daniel Fernandes' single to right field. 

Both starting pitchers pitched a gem. Kaj Timmermans lasted seven innings and gave up two runs on four hits, walked one and struck out five to take the loss. Elton Koeiman did a tad better as he pitched 7.2 shutout innings, gave up six hits and fanned five as he earned the win.
Best hitter for Curaçao Neptunus was Gianison Boekhoudt, who went 2 for 1 with a double.
Hoofddorp Pioniers  4  –  3  DSS
A hard fought victory for Hoofddorp Pioniers. A 4-1 lead almost wasn't enough to hold,
but eventually, DSS did not manage to tie the game.
Pioniers took a 1-0 lead in the first inning when Mervin Gario scored from third base on an error. Jordan Illis crossed home plate for the tying run in the bottom of the second when Mitchel Dautzenberg singled to third base. But in the next inning, Pioniers regained the lead when Brennan Nijhof homered to left field.
In the top of the fifth inning, Pioniers appeared to walk away when they scored two runs but DSS scored one in the bottom of the fifth to make it 4-2. Tino van Erk's single to left field drove in DSS' third run in the bottom of the eighth inning.
The team from Haarlem had another chance in the bottom of the ninth with Djewi Appelman on second with one out, but Maickel Rietel retired the next two batters for the save.
Mike Groen lasted only 2.1 innings as he gave up two runs on three hits and a walk for the loss. Chris Pfau lasted six innings for the win. He gave up two runs on six hits and two walks and fanned five. 
Best hitter for Hoofddorp Pioniers was Mervin Gario who went 2 for 2 with two runs scored and two walks.
De Glaskoning Twins  1  –  11  L&D Amsterdam Pirates
L&D Amsterdam Pirates needed eight innings to finish this game but the 11-1 result was
a red herring as the team took full advantage of a bad first inning in which newly acquired Australian pitcher Jeramy Atkinson struggled big time. He gave up eight runs (seven earned) but recovered in the second inning when he kept Pirates from scoring. But as he had thrown 72 pitches already, he was pulled after the second inning. When you disregard this first inning, Pirates scored only three runs.
Nevertheless, Pirates was the stronger team as De Glaskoning Twins managed to score only one run in the top of the third inning. Back-to-back-to-back singles by Nick Peels, Melvin Perdue and Jamie Verheyleweghen drove in the sole run for the team from Oosterhout. Pirates starting pitcher Kevin Heijstek cruised through seven innings. He gave up six hits, did not walk a hitter and struck out four.
Thijs Steenwijk replaced Atkinson in the third inning and did a decent job. In three innings, he gave up two runs (one earned) on four hits, walked three and fanned one.
Brendan Schoemaker, pitched from the bullpen this time and hurled two scoreless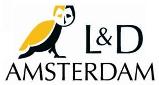 innings in which he gave up two hits, a walk and struck out two.
Pirates ended the game in the eighth when Zerzinho Croes hit a bases-loaded single to drive in the eleventh run, thus ending the mercy rule shortened game.
Kevin Heijstek earned the win and Jeramy Atkinson took the loss.
Best hitter for L&D Amsterdam Pirates was Dany Rombley, who went 3 for 4 with two runs batted in and a run scored.
Here are some impressions of the game:
This report was brought to you by Score66 Baseball