On the first day of round five, Curaçao Neptunus hosted Hoofddorp Pioniers, Pickles UVV headed to Haarlem to face DSS and L&D Amsterdam Pirates hosted HCAW from Bussum.
HCAW  2  –  5  L&D Amsterdam Pirates
In a quick game (2 hours and seven minutes), L&D Amsterdam Pirates bested HCAW.
HCAW took an early lead in the first inning when they scored two runs with Rob
Cordemans on the mound. Roelie Henrique led off with a double, advanced to third on a 6-3 groundout hit by Dylan Koster. After Vince Rooi drew a five-pitch walk, Rossini Frolijk singled through the right side that drove in Henrique and moved Vince Rooi to third base. Rooi eventually scored on a sac fly by Seb Visser to left field. When Kevin Weijgertse doubled down the left field line, Rossini Frolijk tried to score from first base but was thrown out at home plate.
For the rest of his outing that lasted seven innings, Cordemans limited HCAW to two more hits.
Three innings later Pirates tied the game out of the blue. With two outs, Kenny Berkenbosch singled down the left field line, followed by a home run hit by Danny Rombley to left field. In the next inning, Pirates rallied for three runs even though Max Clarijs was thrown out at home plate as he tried to score from first base on a double hit by Remco Draijer. A single by Zerzinho Croes, a triple by Nick Urbanus and a double by Gilmer Lampe drove in three runs.
After Rob Cordemans was pulled Robin Schel and Daan Hendrix both pitched a scoreless inning in which the struck out one hitter each.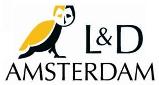 Rob Cordemans earned the win as he gave up two runs on five hits, walked two and fanned four.
Best hitter for L&D Amsterdam Pirates was Remco Draijer who went 2 for 3 with a double and a run scored.
Pickles UVV  5  –  4  DSS
In another early game (2 hours and 35 minutes), Pickles UVV took an early lead in the first inning. With the bases loaded, Sergino Martis hit a sac fly to left field that drove in

Rick Kuipers, followed by a double to right field hit by Tijmen Takke that drove in Randy Daal.
DSS got on the board in the third inning as they scored a run, but UVV rallied in the sixth inning to extend their lead to 5-1.
UVV pitcher Timo van Ancum limited DSS to one run on one hit in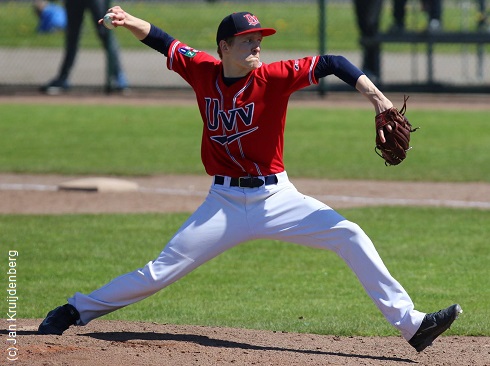 seven innings as he walked one and struck out six. Jose Moreno, who replaced Van Ancum in the eighth inning, recorded three quick outs but was hit hard in the ninth. With runners on first and second, Devano Pieter singled through the middle to drive in Sven van de Sanden. After Omar Williams singled home Thomas Bos, Timo van Erk drew a walk to load the
bases. Moreno was replaced by Roderick Hennekes, who started his outing with a walk that drove in the third run of that inning. But Hennekes struck out Levine Gabriels for the final out of the game and the save.
Timo van Ancum earned the win, Sander Helmendach took the loss.
Best hitter for Pickles UVV was Rick Kuipers, who went 3 for 5 with two runs scored.
Hoofddorp Pioniers  2  –  6  Curaçao Neptunus
Hoofddorp Pioniers took a 1-0 lead in the first inning on a solo home run by Dudley
Leonora. But Curaçao Neptunus bounced back in the bottom of that inning. With Stijn van der Meer on second base, Christian Diaz singled through the right side to drive in Stijn van der Meer. On the throw to home plate, Diaz advanced to second base.
A double by Dwayne Kemp drove in Christian Diaz to give Neptunus the 2-1 lead.
A two-run third inning and a one-run fourth inning, gave Neptunus a commanding 5-1 lead.
In the meantime, Diegomar Markwell cruised through six innings in which he gave up two runs on six hits, walked two and fanned three for the win.
In the sixth inning Pioniers added one more run when Dudley Leonora hit a leadoff single, followed by a single hit by Quentin de Cuba which advanced Leonora to third
base. When Jeffrey Arends hit into a 6-4-3 double play, Leonora scored the final run for Pioniers. Neptunus scored one more run in the seventh inning to reach the final score of 6-2.
Chris Pfau took the loss after 6.2 innings in which he gave up six runs (five earned) on nine hits, walked three and struck out six. Misja Harcksen earned the save as he pitched three scoreless innings in which he fanned one.
Best hitter for Curaçao Neptunus was Christian Diaz, who went 3 for 4 with two doubles, two RBI and two runs scored. 
This report was brought to you by Score66 Baseball