Today only two games were played as the game between Curaçao Neptunus and Hoofddorp Pioniers was rained out. HCAW hosted L&D Amsterdam Pirates and DSS headed to Utrecht to take on Pickles UVV.
L&D Amsterdam Pirates  5  –  3  HCAW
HCAW could not cling to an early one run lead as L&D Amsterdam Pirates took the lead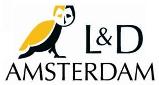 and never looked back and HCAW's ninth inning rally fell short eventually.
Both starting pitchers pitched seven innings but Kaj Timmermans did not fare as well as Kevin Heijstek did. Timmermans allowed four runs on nine hits and two walks and fanned two, while Heijstek gave up just one run on four hits and a walk and struck out seven for the win.
In the bottom of the first, HCAW took a 1-0 lead when Roelie Henrique scored from second base on a single to right field hit by Kevin Dirksen.
But Pirates would not trail long as they scored two runs on a home run by Linoy Croes who took Danny Rombley with him. In the third, sixth and eighth inning, Pirates would score a run each. But HCAW started a rally in the ninth. Daan Hendrix gave up three
singles that loaded the bases before he gave up a two-run single to Seb Visser.  But that was about all HCAW was capable of as Hendrix retired the next two batters for the save.
Kaj Timmermans took the loss and best hitter for L&D Amsterdam Pirates was Linoy Croes, who went 3 for 4 with a homerun, two RBI and a run scored.
DSS  7  –  8  Pickles UVV
Pickles UVV took a commanding 7-1 and 8-3 lead but the relief pitching almost blew the lead. Also, DSS' run in the final two innings fell short eventually.

DSS took a 1-0 lead in the second inning when Tino van Erk scored on Sven van de Sanden's 4-3 ground out. But UVV would score two in the bottom of the second and added one more run in the bottom of the fourth when Bryce Cherry homered to right field. The big inning for UVV came in the fifth. Rick Kuipers drew a walk and was driven in on a double hit by Jelle Blaauw. Blaauw on his turn scored on Randy Daal's single to left field. Daal's brother, Rodney, homered to left field for two more runs.
One inning later UVV added one more but there their run production stalled.
DSS on its turn scored two runs in the top of the sixth inning and rallied in the eighth.
UVV manager Ty Eriksen sent Roderick Hennekes to the mound, but Hennekes started by giving up back-to-back doubles, a single and another double and allowed DSS to score two runs. Sven van de Sanden then reached base on a throwing error by third baseman Rodney Daal, that allowed Tino van Erk to score the third run of that inning. 


One inning later, Jonah van Bemmelen, who had replaced Hennekes in the previous inning, gave up one more run to DSS but managed to get out of the game without any further damage.
Jurjen van Zijl pitched six innings for the win in which he gave up three runs on eight hits and a walk and struck out four. Donny Breek lasted just four innings as he gave up five runs on five hits and two walks. Breek struck out six.
Best hitter for Pickles UVV was Bryce Cherry who went 2 for 4 with a double, a home
run, an RBI and two runs scored.
This report was brought to you by Score66 Baseball