On day two of round five, there was one rather surprising result. Pickles UVV was no match for Curaçao Neptunus, neither was Hoofddorp Pioniers for L&D Amsterdam Pirates.
Pickles UVV  0  –  11  Curaçao Neptutnus
Curaçao Neptunus had to settle a score with Pickles UVV after last Thursday's tie. And it

did. In seven innings it beat up UVV. Not did they only outscore the team from Utrecht, they also outhit them 13-3.
After taking a quick 1-0 lead, a big second inning was the omen for the monster score of today. With runners on the corners, Gregory Muller hit into a force out at second on which Daniel Fernandes could score the first run of the inning. Singles by Jochem Koedijk, Stijn van der Meer and Christian Diaz, followed by a double to left center field, hit by Dwayne Kemp, drove in three more runs. After Gianison Boekhoudt drew a walk, Daniel Fernandes singled up the middle to drive in two more runs. Actually the race was already run by then.
It became a mercy rule shortened game when Neptunus scored another run in the fifth and three more in the seventh. 

Elton Koeiman pitched a seven-inning gem for the win, in which he gave up three hits and struck out five. Jurjen van Zijl took the loss after five innings in which he gave up eight runs on twelve hits.
Best hitter for Curaçao Neptunus was Stijn van der Meer, who went 3 for 3 with two RBI and two runs scored.
Hoofddorp Pioniers  1  –  13  L&D Amsterdam Pirates
Also, the game between Hoofddorp Pioniers and L&D Amsterdam Pirates was a seven
inning affair. After a scoreless first inning, Pirates struck hard in the second.
With runners on first and second, a fly ball, hit by Rachid Gerard, was dropped by left fielder Brennan Nijhof and loaded the bases. Jesse Aussems hit a sac fly to center field on which Linoy Croes could score. Remco Draijer then doubled down the right-field line to drive in Danny Rombley. With the bases loaded, Nick Urbanus singled through the left side to drive in two more runs. A wild pitch by Darryl Jamoena made all runners advance a base and allowed Zerzinho Croes to score. A double by Kenny Berkenbosch drove in two more runs to give Pirates a 7-0 lead.
In the next inning, Glenn Bakker put Pioniers on the board thanks to a solo home run. But that was all, Pioniers was capable of.
Pirates scored six more runs, two in the third, one in the fourth and three in the fifth to reach the final score. This game was quite a slugfest as L&D hit four doubles and three home runs.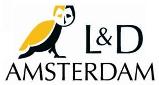 Kevin Heijstek pitched a seven-inning complete game for the win and reached double digits in strikeouts as he fanned twelve. Darryl Jamoena took the loss as he lasted 1.2 innings in which he gave up seven unearned (!) runs on four hits and three walks.
Best hitter for L&D Amsterdam Pirates was Nick Urbanus, who went 3 for 5 with a double, four RBI and two runs scored.
HCAW  7  –  9  De Glaskoning Twins

After last Thursday result (a 2-0 loss vs HCAW), today's result may not have come as a
surprise. In today's game, everything went right for De Glaskoning Twins. The hits did not go straight towards the fielders, the pitching did its job and except for two errors, the defense did a fine job too.
With aggressive baserunning, Twins made HCAW commit several errors as the team from Bussum committed five.
Mic van de Ven pitched five solid innings in which he gave up only one double to Vince Rooi. But in the sixth inning, he got into trouble and allowed two runs (one unearned).
But Twins had already scored three runs in the previous five innings, so the runs scored by HCAW did not hurt yet. Twins took a 1-0 lead in the third inning when Jamie Verheyleweghen crossed home plate on a fielding error by Dylan Koster, who bobbled the ball when Melvin Perdue hit it towards him.
In the next inning, Twins extended their lead when Chris Gé hit a single, which dropped right after the shortstop, to drive in Nick Peels. After Chris stole second, Denzel Bryson drove in the third run with a single to left field.
After HCAW tied the game at five in the top of the seventh, Twins took a one-run lead again in the bottom of that inning. In the next frame, Twins scored three more (insurance runs) on a bases loaded triple hit by Menno Lenting. With Brendan
Schoemaker on the mound in relief, HCAW drove in two runs in the ninth, but Brendan kept his cool and retired Rashid Engelhardt on a strikeout for the final out of the game.
Brendan earned the win after 1.2 innings in which he allowed two runs on three hits and a walk and struck out one. Oscar Meuris took the loss as he gave up four runs (one earned) on one hit and four walks.
Best hitter for De Glaskoning Twins was Denzel Bryson, going 2 for 3 with a RBI and two runs scored. Most impact though had Menno Lenting with his sole hit of the game with which he drove in three.
Here are some impressions of the game.

This report is brought to you by Score66 Baseball.