On day three of round five, HCAW hosted De Glaskoning Twins, Hoofddorp Pioniers hosted L&D Amsterdam Pirates and Curaçao Neptunus headed to Utrecht to take on Pickles UVV.
De Glaskoning Twins  2  –  8  HCAW
Once again, De Glaskoning Twins outhit their opponent but lost the game.

For five innings, the game was a close affair as Twins took a 1-0 lead in the top of the first inning. Singles by Nick Peels, Melvin Perdue and Mick Molenaar drove in the first run of the game. In the same inning, HCAW turned the tables. Twins' new Japanese pitcher, Daisuke Yamashita struggled in the first inning. He started the game by giving up a walk, then hit Dylan Koster with a pitch. After he struck out Vince Rooi, he gave up another walk to Kevin Dirksen, followed by a wild pitch that allowed Roelie Henrique to score the game-tying run. Rowan Hoek then singled to Yamashita to drive in Dylan Koster.
In the next four innings, Yamashita kept Twins in the game and the club from Oosterhout managed to tie the game in the fifth inning.
But in the sixth, Twins had a bad inning and HCAW struck hard. With the bases loaded and no outs, Yamashita gave up a walk to Seb Visser that drove in the go-ahead run. Rossini Frolijk then singled home Kevin Weijgertse and Rowan Hoek. A single, given up to Boyd Tuhumury signaled the end of Daisuke Yamashita. Jan Evertse took over and allowed one more run to HCAW when Dylan Koster hit a sac fly to right field to drive in Raoell Kortstam.  The final score was reached when HCAW added one more run in the eighth inning.

Ian Delemarre earned the win as he lasted 6.1 innings in which he gave up two runs (one earned) on nine hits and three walks and struck out one. Daisuke Yamashita took the loss. In five innings and six batters faced in the sixth inning, he gave up seven runs on six hits and five walks. He struck out five.
Best hitter for HCAW was Kevin Dirksen, who went 2 for 3 with a run scored and a walk drawn.
L&D Amsterdam Pirates  1  –  3  Hoofddorp Pioniers
For seven innings this game was a close one. L&D Amsterdam Pirates took the lead in the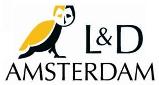 fourth inning when Kenny Berkenbosch led off with a triple to right-center field and was driven in by Danny Rombley, who singled to left field.
In the next three innings, nothing much happened, even though both teams had runners in scoring position a few times.
But in the eighth inning, Pioniers rallied for three runs. Singles by Mark Smit, Brennan Nijhof and Mervin Gario, drove in the game-tying run. Nick Veltkamp then replaced Dennis Burgersdijk and gave up a walk to Shurman Marlin and a single to Jeffrey Arends that drove in Mervin Gario and Brennan Nijhof.
Despite struggling through the ninth inning as he threw two wild pitches, Maickel Rietel did not allow Pirates to score anymore. 

Scott Ronnenbergh earned the win by pitching the eighth inning in which he gave up one hit. Dennis Burgersdijk took the loss. In 1.1 innings he gave up three runs on four hits and struck out two.
Best hitter for Hoofddorp Pioniers was Brennan Nijhof, who went 2 for 4 with a run scored. 
Curaçao Neptunus  8  –  2  Pickles UVV
Until the sixth inning the game between Neptunus and UVV was a close affair as both
teams scored twice. Neptunus opened the score in the fourth inning. Christian Diaz led off with a double, followed by a double hit by Gianison Boekhoudt on which Christian Diaz scored the opening run. Boekhoudt scored on Ruar Verkerk's single up the middle.
But UVV would tie the game in the next inning when Sergino Martis hit a two run homerun to left field and took Julian Goins with him.
Neptunus took the lead once more in the sixth as they scored two. With

runners on first and second, Gregory Muller singled to left field on which Daniel Ferandes could score. Neptunus loaded the bases when Jochem Koedijk through the right side. Shaldimar Daantji grounded into a 4-6 ground out that allowed Ruar Verkerk to score.
In the eighth and the ninth inning, Neptunus scored two runs each to reach the final score of 8-2.
Kevin Kelly earned the win. In 6.2 innings he gave up two runs on eight hits and a walk and struck out three. Kevin van Veen took the loss after 5.1 innings as he gave up four runs on ten hits and a walk and struck out one.
Best hitter for Curaçao Neptunus was Gregory Muller, who went 3 for 4 with three RBI, a
home run and a run scored.
This report is brought to you by Score66 Baseball