On the third day of round twelve, the game between DSS and Pickles UVV was rained out due to heavy rainfall and the state of the field as a result of it. The game between HCAW and L&D Amsterdam Pirates was delayed due to rainfall as well, but at least this one could be finished (in seven innings). Curaçao Neptunus was dealt a blow by Hoofddorp Pioniers to lose for the second time in as many days.
Curaçao Neptunus  4  –  5  Hoofddorp Pioniers
In a very close game, Hoofddorp Pioniers stayed at the right side of the score. After two
scoreless innings, Pioniers came close to score the opening run when Quentin de Cuba hit a leadoff double down the right field line. But somehow De Cuba did not manage to get further on Mark Smit's double to left field and Pioniers failed to cash in that inning. But in the next inning Pioniers managed to take a 1-0 lead. Dudley Leonora led off with a double to left center field and was drive in by Jeffrey Arends, who singled to center.
The next two and a half innings went by rather quick before Pioniers added four more runs to their score. A home run by Shurman Marlin drove in two, while a bases loaded walk given up by Jan Tomek drove in the third run of the inning. Loek van Mil served up the pitch that ended to be a sac fly to drive in the fourth run to make it 5-1 Pioniers. It appeared a safe lead, but Curaçao Neptunus would score a couple of runs in the final two frames. In the eighth inning, a double by Shaldimar Daantji doubled home Daniel Fernandes and Gregory Muller. Daantji himself advanced to third on a muffed throw by catcher Quentin de Cuba. One inning later, Gianison Boekhoudt homered to right field to bring Neptunus within a run
from Pioniers, but that was the closest it would get. Scott Ronnenbergh and Luuk ter Beek each recorded an out in the final inning.
Nick Keur pitched 7.2 innings for the win. He allowed three runs (two earned) on five hits and a walk and struck out eight. Kevin Kelly took the loss. In 6.1 innings he gave up five runs on seven hits and two walks and struck out eight.
The best hitter for Hoofddorp Pioniers was Quentin de Cuba, who went 2 for 3 with two doubles and a run scored.
L&D Amsterdam Pirates  10  –  0  HCAW
L&D Amsterdam Pirates needed only seven innings for the sweep. In a game that started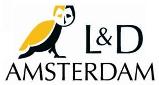 later due to heavy rainfall, HCAW was no match for the current leader of the standings.
The first inning was a disastrous one for HCAW as Pirates scored six times. Back-to-back singles by Remco Draijer and Zerzinho Croes put runners on first and second. Then Ian Delamarre made a throwing error with a pick off attempt, so both runners advanced a base. Nick Urbanus' single down the right field drove in both runners. After Gilmer Lampe drew a walk, Danny Rombley doubled to left center field to drive in Nick Urbanus and to advance Gilmer Lampe to third. Groundouts by Kenny Berkenbosch and Rachid Gerard and singled by Patrick Bok and Jesse Aussems drove in three more runs.
A three run fourth and a one run sixth brought the margin to ten runs and after Dennis
Burgersdijk pitched a perfect seventh inning, the game was over.
Robin Schel pitched six solid innings in which he gave up five hits, walked one and struck out four. Ian Delamarre took the loss as he lasted 0.2 innings in which he gave up six runs on six hits and a walk.
Best hitter for L&D Amsterdam Pirates was Danny Rombley, who went 2 for 3 with a double, a RBI and three runs scored.
Standings:
| | | | | | | | | |
| --- | --- | --- | --- | --- | --- | --- | --- | --- |
| | Team | Games | Won | Tie | Lost | Points | Runs for | Runs against |
| 1 | L&D Amsterdam Pirates | 30 | 25 | 0 | 5 | 50 | 236 | 70 |
| 2 | Curaçao Neptunus | 30 | 20 | 1 | 9 | 41 | 217 | 128 |
| 3 | HCAW | 33 | 17 | 2 | 14 | 36 | 159 | 145 |
| 4 | Hoofddorp Pioniers | 30 | 16 | 1 | 13 | 33 | 167 | 142 |
| 5 | DSS | 32 | 12 | 0 | 20 | 24 | 139 | 253 |
| 6 | Pickles UVV | 29 | 7 | 3 | 19 | 15 | 116 | 176 |
| 7 | De Glaskoning Twins | 30 | 6 | 1 | 23 | 13 | 133 | 253 |
This report is brought to you by Score66 Baseball