On the third day, L&D Amsterdam Pirates hosted Hoofddorp Pioniers and De Glaskoning Twins hosted HCAW. The game between Pickles UVV and Curaçao Neptunus wascancelled beacause the infield looked like a pond.

Hoofddorp Pioniers  5  –  7  L&D Amsterdam Pirates
For L&D Amsterdam Pirates, not much was at stake at this game. Even if Curaçao Neptunus will win the rained out game on Tuesday, and they likely will, the mutual
results between the two are in the favor of Pirates, so they will enter the play offs as no. one seed. But for Hoofddorp Pioniers, there was somethin at stake. If HCAW would lose today and Pioniers would win, the team still would have a chance to finish on top of HCAW in the standings.
L&D Amsterdam Pirates took an early lead in the first inning. With the bases loaded, Danny Rombley hit a sac fly to drive in Remco Draijer, followed by a single to right field by Kenny Berkenbosch to drive in Zerzinho Croes.
But Pioniers bounced back rightaway in the top of the second inning. Back-to-back walks and a single loaded the bases before Mark Smit drove in Gianni Frolijk. Max Draijer's double down the right field line, drove in two more runs to give Pioniers the lead. Until the fifth inning neither team did score but in the fifth Pirates rallied for the lead. A couple of singles, a couple of doubles and a HBP allowed Pirates to score two to take a one run lead again. Pirates slowly walked away as they scored a run in the following three innings just enough to keep Pioniers at bay. Pioniers scored two more in the top of the eighth but that was all they could do.
Robin Schel lasted seven innings for the win. He gave up three runs on six hits, walked three and struck out three. Daan Hendrix earned the save. In the remaining two frames he gave up two runs on three hits.
Nick Keur took the loss for Pioniers. In 4.1 innings he gave up four runs on eight hits and three walks as he struck out two. Luuk ter Beek, who debuted last week with Pioniers,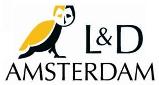 could not continue his good performance of last week when he pitched two innings in which he did not allow a run. Today he gave up one run on two hits in 1.2 innings.
Best hitter for L&D Amsterdam Pirates was Zerzinho Croes, who went 4 for 5 with a double, a RBI and a run scored.
Thanks to this loss, Pioniers will finish in fourth place. HCAW will have a week off next week. If Pioniers will win all three games next week, the team may catch up HCAW and finish with the same amount of points. But the results of the mutual games are in the favor of the club from Bussum, so Pioniers will finish in fourth place anyway.
HCAW  4  –  0  De Glaskoning Twins
Three innings were enough for HCAW to win this game. A one run first and a one run
second gave the club from Bussum a 2-0 over De Glaskoning Twins. In the seventh the team added two more runs to reach the final score of 4-0.
With Brendan Schoemaker on the mound for Twins, HCAW struck early. Delano Delassa scored on an error of shortstop Bob van der Meer in the first inning after he got on base on a double. In the second inning, Kevin Weijgertse doubled down the left field line, stole third and scored on a throwing error by catcher Bart Janssen. Despite giving up these two runs (one unearned), Brendan Schoemaker pitched a decent game. He lasted five innings and gave up six hits, walked three and struck out four. His opponent, Ian Delamarre, did a tad better as he cruised through eight innings in which he gave up four hits, walked one and fanned three.
In the seventh inning, Daisuke Yamashita, who replaced Brendan Schoemaker in the sixth surrendered two runs on three hits. He walked two and struck out one. 

Despite not being really outscored, Twins never had a chance to win this game. Only in the final two innings, the team had runners in scoring position, but did not seize the opportunities to score runs. It was a game like many this year. The team got some hits but not when it mattered. Quite often the hitters hit the ball straight to the fielders. When it comes to that, the team is lacking a bit of luck this season.
Ian Delamarre earned the win. Brendan Schoemaker took the loss.
Average wise, Seb Visser was the best hitter for HCAW as he entered the game as a pinch runner and had one at-bat in which he singled through the right side and drove in a run.
Here are some impressions of the game:
This report is brought to you by Score66 Baseball