On the first day of the fourteenth round, it became clear the top four teams are much stronger than the lower three. De Glaskoning Twins was no match for Hoofddorp Pioniers, DSS kept pace with Curaçao Neptunus quite long but eventually fell to the Rotterdam based team and L&D Amsterdam Pirates beat Pickles UVV in a mercy rule shortened game. 
De Glaskoning Twins    –    Hoofddorp Pioniers
After Hoofddorp Pioniers had taken a 1-0 lead in the first inning, the third inning would
be a disastrous one for De Glaskoning Twins. Mic van de Ven gave up four runs before recording the first out. Dudley Leonora drove in Joey Eeman on a single and Jeffrey Arends drove in three on a home run to left field. After Raf Cocu replaced Van de Ven, he gave up three runs on back-to-back singles by Duco Nuijten and Joey Eeman.
Twins on its turn had runners in scoring position with two outs twice but did not cash in because Lars Huijer got out of those innings on strikeouts.
Even though Cocu loaded the bases in the fifth inning, Pioniers did not score. Cocu was replaced by Daisuke Yamashita, who retired the final two hitters to get out of the inning without any damage. 

In the sixth inning, Twins got on the board finally. Nick Keur, who replaced Lars Huijer, started the inning with giving up a walk to Nick Peels, followed by a single by Bram Grooten. Bob van der Meer singled through the left side to drive in Peels. After Jamie Verheyleweghen hit into a force out at second, Dennis de Quint singled home Bram Grooten for the second run. But there the offense stalled.
Pioniers would score twice, once in the sixth and once in the seventh.
Lars Huijer would earn the win but he needed quite a high number of pitches in only five innings (92). He gave up only five  hits, walked three and struck out eight.
Mic van de Ven would take the loss as he lasted only 2.1 innings in which he gave up eight runs on seven hits and three walks.
Best hitter for Hoofddorp Pioniers was leadoff hitter Joey Eeman, who went 4 for 4 with a double, a RBI and three runs scored.
Curaçao Neptunus  9  –  2  DSS
DSS kept pace quite long but stayed at the wrong side of the score. Diegomar Markwell
cruised through seven innings, giving up just three hits.
Both teams scored once in the first inning, Neptunus on a double by Dwayne Kemp that drove in Stijn van der Meer and DSS on a home run by Odion Gouverneur.
But in the next inning, Byron Cornelisse recorded two quick outs but couldn't get out of the inning before giving up two runs. Gregory Muller drew a walk, Shaldimar Daantji singled through the left side and  Stijn van der Meer doubled to left center field to drive in Muller and Daantji.
In the seventh inning Neptunus would add two more to their score as, with two outs, Gregory Muller doubled down the left field line, Stijn van der Meer singled up the middle to drive in Muller and scored himself on a double down the right field line hit by
Benjamin Dille. DSS would score once more in the seventh and Neptunus added four more runs in the ninth to reach the final score. Diegomar Markwell earned the win, while Bayron Cornelisse took the loss. In six innings he gave up three runs on five hits, walked one and fanned six.
Best hitter for Curaçao Neptunus was Stijn van der Meer, who went 3 for 4 with a double, four RBI and three runs scored.
Pickles UVV  5  –  15  L&D Amsterdam Pirates
A five run first inning was the omen what was about to come for Pickles UVV.  It started
when Nick Urbanus doubled with runners on the corners to drive in Remco Draijer and Zerzinho Croes. When Pirates loaded the bases, Patrick Bok hit a sac fly to drive in Nick Urbanus. After Danny Rombley and Kenny Berkenbosch advanced a base to get in scoring position, Jesse Aussems singled home both with a hit to right field.
After scoring a run in the third, Pirates added three more in the fifth. But Pickles UVV had done some damage in the previous innings. In the second inning, Julian Rip scored from second base on a base hit to left field by Mike Bazuin. In the fourth inning, Rob Cordemans gave up a solo home run to Sergino Martis. Cordemans lasted six innings in which he gave up two runs on six hits as he fanned six. Cordemans was replaced by Dennis Burgersdijk, who limited UVV to one hit. But after Burgersdijk was replaced after one inning, Nick Veltkamp let UVV get back into the game as he gave up three runs.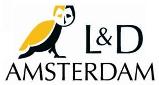 Eventually, Pirates had to flex its muscles in the eighth to stay out of trouble. With a three run home run, Danny Rombley gave Pirates a seven run margin again. Singles by Max Clarijs and Zerzinho Croes drove in two more runs to end the game prematurely on the mercy rule.
Rob Cordemans earned the win, Kevin van Veen took the loss as he gave up six runs (two earned) on seven hits and two walks in just three innings.
Best hitter for L&D Amsterdam was Jesse Aussems, who went 3 for 4 with two RBI and two runs scored.
This report is brought to you by Score66 Baseball