The Houston Astros were forced to move their series against the Texas Rangers to Tropicana Field in St. Petersburg, Florida. The reason was the refusal of the Texas Rangers to swap a set of series. The Astros asked the Rangers to take the series, that was eventually played at Tropicana Field, as their home series so the Astros would take a Rangers' home series as their series.
And all of this because Houston was hit by Hurricane Harvey, which made it impossible for the Astros to play their home games in Minute Maid Park.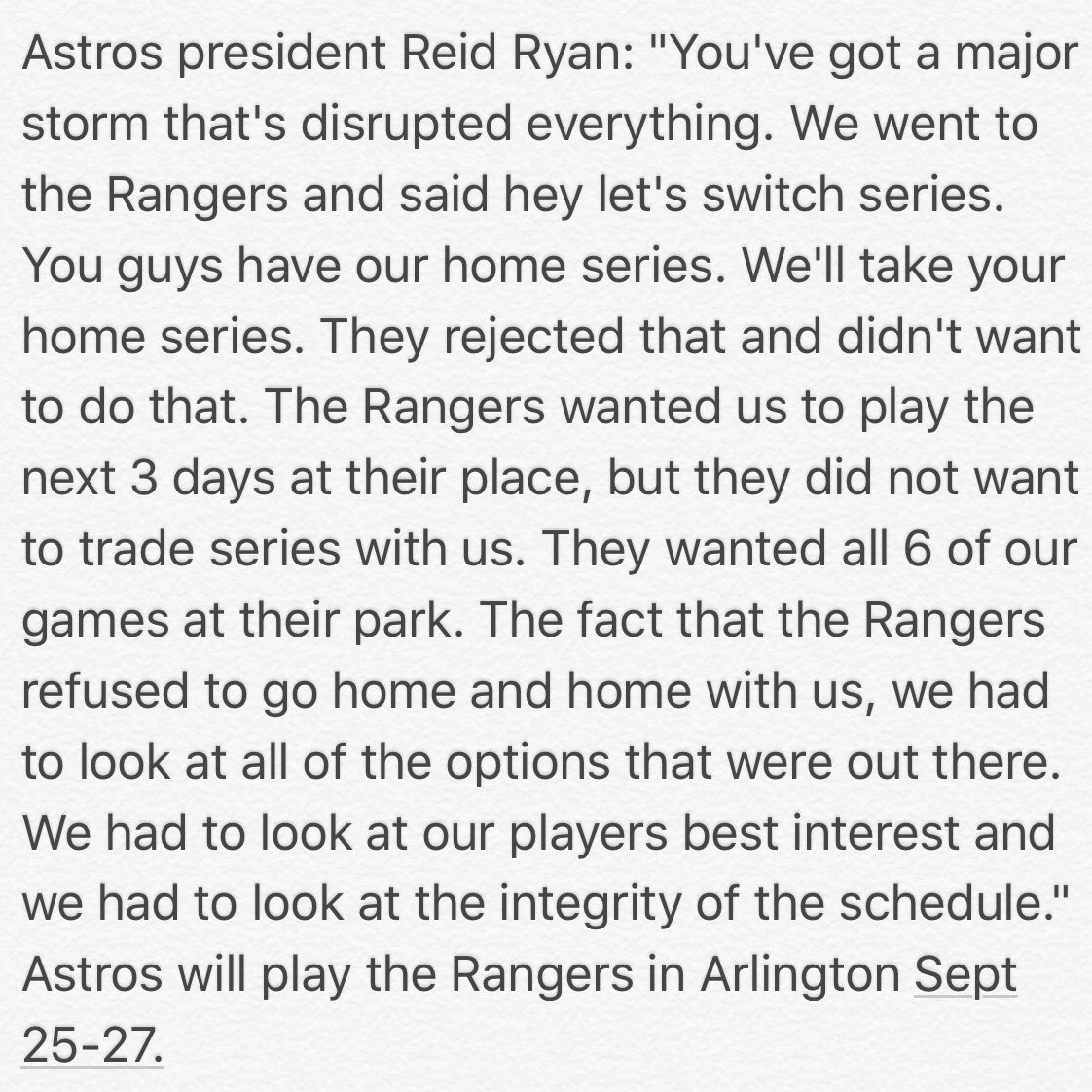 The Rangers on their turn claimed the refusal left the club inaccurately portrayed. Rangers GM Jon Daniels stated: "We were prepared to make the event all about hurricane relief and helping our neighbors. It had nothing to do with looking for a competitive advantage. That's an inaccurate portrayal."  The Rangers also stated, "it was unfair to their fans" because the Texas Rangers officials felt that their season ticket holders would not have adequate time to be able to take advantage of the shifted game schedules. A change to a series in Houston would mean that the Rangers would have four consecutive road series before they would finish their season with a home series against Oakland over the season's final weekend.
As a result, some Houston residents are not happy with the Rangers representing the State of Texas on their uniforms anymore.
A Houston resident, Marc Phelps, created a petition on Tuesday, which demanded Greg Abbott, the Governor of Texas, to strip the Rangers of the state flag on their jerseys after their refusal of swapping home series with the Astros.
"During the flooding of Hurrican Harvey in the greater Houston area, the Houston Astros approached the Texas Rangers about swapping the dates and locations of their final two series. Minute Maid Park in Houston would not be able to host the August 29th game," the petition says. "The Texas Rangers do not represent the state of Texas and therefore should not be allowed to wear our state's Flag."
Four hours after the petition was created, it received 129 signatures, a number that keeps climbing.