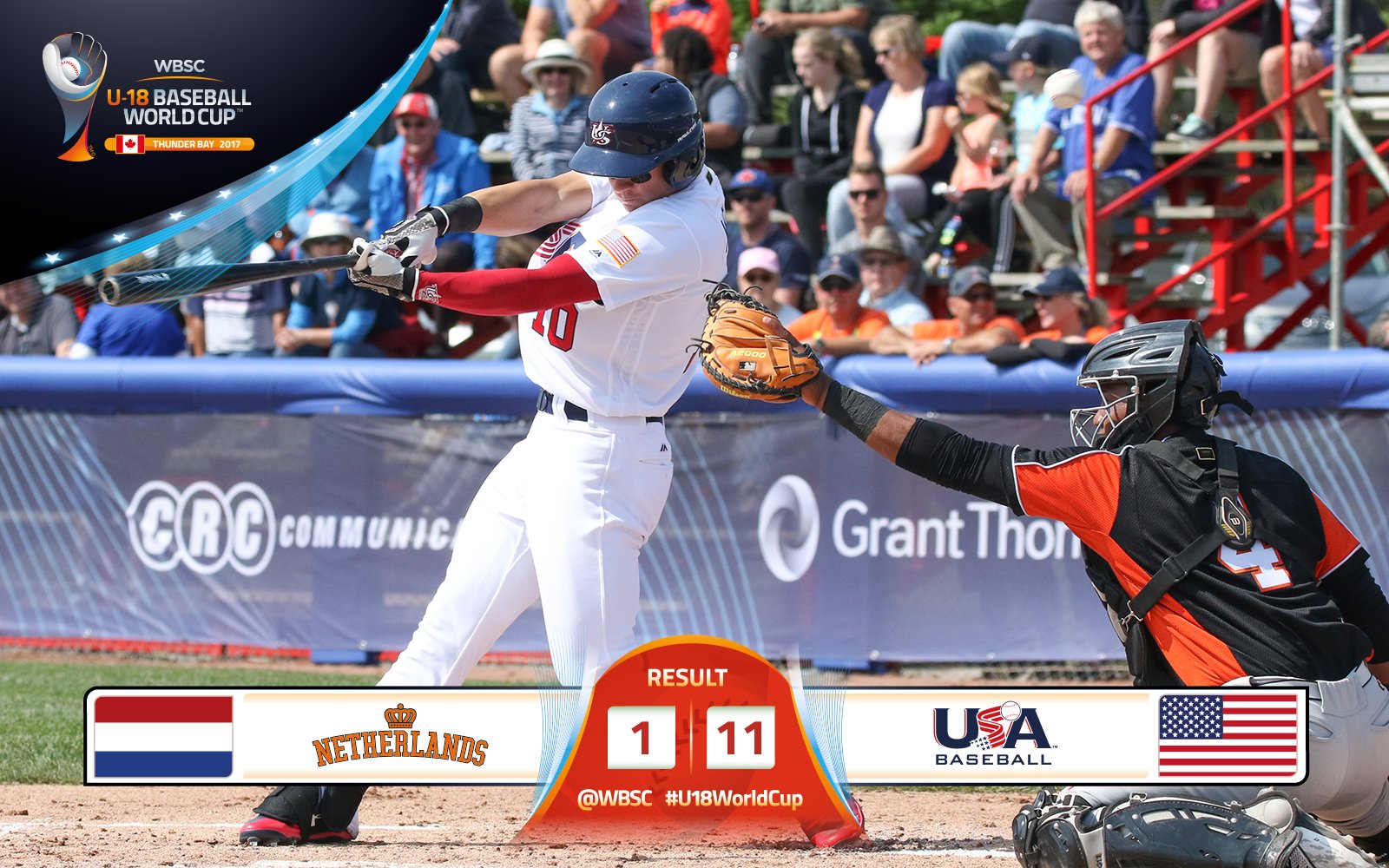 In their first game of the 2017 World Cup in Thunder Bay Canada, the USA was way too strong for the Kingdom of the Netherlands. No matter how hard they tried, but the Dutch pitching could not meet the challenge of the American offense.  Eventually the Dutch lost 11-1. 
Not only the pitching wasn't able to keep the American offense in check, also the offense couldn't get a grip on the US pitching. One exception though was the first inning in which the Dutch took a lead. Jeandro Tromp drew a leadoff walk, advanced to third on a double down the left field line by Makesiondon Kelkboom and scored on a 4-3 ground out hit by Richgelon Juliana.
The USA countered immediately in the bottom of the same inning. Michael Anthony Siani doubled to center field, Carter Isaak Young got on base due to a fielding error by shortstop Makesiondon Kelkboom on which Siani could score the game tying run.
In the next two innings, the USA scored a run each before they walked away in the fifth as they scored five runs. Mic van de Ven, who kept the American scoreless in the fourth inning as he replaced Donny Breek, was tabbed for five runs. Stefan Ianelli replaced Van de Ven and got out of the inning but not before allowing the fifth run to score.
The few times the Dutch got on base, they could not advance a runner as the American offense got out of the innings without many problems.
For two innings, Stefan Ianelli was able to keep the USA in check but eventually even he wasn't able to stop the American offense. In the bottom of the seventh inning, Micheal Anthony Siani hit a bases clearing triple to give the USA a 10-1 lead.
The final blow came in the bottom of the eighth inning when Jarred Robert Kelenic hit a leadoff home run for the 11-1 mercy rule finish.
The Dutch were outhit 13-2 as only Makesio Kelkboom and Denzel Bryson managed to get a hit.
Christopher Koeiman took the loss as he gave up two runs on three hits in two innings pitched.
Other pitching results: 
Donny Breek: 1 IP, 1 unearned run on 1 hit and 2 Ks
Mic van de Ven: 1.1 IP, 5 runs on 3 hits and 2 walks and 1 K
Stefan Ianelli: 2.2 IP, 3 runs on 6 hits and 3 Ks
Ethan Gordon Hanskins pitched six innings for the American win. He gave up one run on one hit and two walks and fanned thirteen (!).
Tomorrow the Kingdom of the Netherlands will face Cuba, that was beaten by the Dutch in the 2010 edition of the U18 World Cup. The game will start at 2.00 PM, so 8.00 PM (20.00) Dutch time.