As a deluge hit the Netherlands in the past days, all games but one were canceled. Only the game between Hoofddorp Pioniers and L&D Amsterdam was played. Both teams were each other's match but in the end, L&D Amsterdam prevailed as they scored a run in the ninth to clinch a 5-4 victory.
It was a game in which Hoofddorp Pioniers starting pitcher Lars Huijer was roughed up in the second inning. After Kenny Berkenbosch doubled home Danny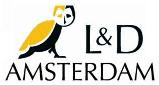 Rombley, Huijer recorded two outs before he allowed Pirates to load the bases.  Zerzinho Croes then singled to right field and drove in Berkenbosch and Max Clarijs to give Pirates a 3-0 lead.
In the next inning, Pirates pushed once more but managed to score only one run on a throwing error by catcher Paul Brands. After the third inning, Lars Huijer settled down and did not allow any more runs.
Kevin Heijstek on the other hand, cruised through the first two innings, allowed a runner on third in the third inning but kept Pioniers from scoring nevertheless. But in the fourth inning, Heijstek got into trouble. After he recorded two quick outs, Heijstek gave up singles to Dudley Leonora and Shurman Marlin, a walk to Max Draijer and another single to Mark Smit that drove in Leonora and Marlin to cut Pirates' lead in half.
Joey Eeman followed with a single to center field to drive in Max Draijer.
Two innings later, Shurman Marlin tied the game with a solo home run to right center field.
After being hit hard in the fourth inning and after giving up that home run to Shurman Marlin, Kevin Heijstek settled down as well. Normally, Pirates manager Charles Urbanus sticks to the strategy of replacing a starting pitcher in the seventh inning and go to the bullpen. This time he kept Heijstek on the mound.
Manager Dè Flanagin of Pioniers went to the bullpen in the top of the eighth when he replaced Lars Huijer with Taylor Clemensia. After he kept Pirates from scoring in the eighth inning, he started the ninth with giving up back-to-back walks. That was a sign to Flanegin to bring in Maickel Rietel. After Nick Urbanus advanced both runners with a sac bunt, Rietel gave up an intentional walk to Gilmer Lampe to load the bases. Danny Rombley's sac fly drove in Remco Draijer for the go-ahead run. 
Still on the mound in the bottom of the ninth, Kevin Heijstek retired the side for the win. Heijstek allowed four runs on seven hits and two walks and struck out six. He needed 110 pitches to accomplish this feat.
Taylor Clemensia took the loss as he gave up the game winning run on a walk. In one inning and two batters faced in the ninth, he issued three walks and struck out one.
Kenny Berkenbosch was the best hitter for L&D Amsterdam Pirates as he went 2 for 4 with a double, a RBI and a run scored. 
This report is brought to you by Score66 Baseball