Dutch hoofdklasse team Hoofddorp Pioniers must look for a new head coach for the 2018 season. After three years as skipper of the team, Dè Flanegin has decided to step back as head coach.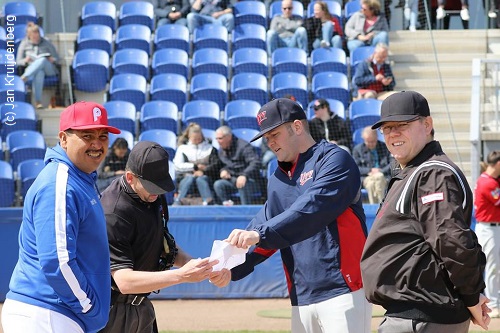 After the last game of the playoffs, Flanegin announced his decision to step back.
In a local newspaper, Flanegin explained his decision.
One of the reasons for his decision is the fact that Pioniers is financially strapped. After the 2016 season, main sponsor construction company Vaessen announced to withdraw. Since then the club is without a main sponsor. As a result, the club wasn't able to get crucial players that could make the team a contender. He had to work with a group of players who love to play the game but have to skip at times because they have to work. As a result, Flanegin fielded a different lineup most of the time.
Flanegin claims the board of the club didn't make a big enough effort to land a new sponsor, something the board denies as they said they have done everything to get a new main sponsor: A monthly network drink, and a softball competition for companies to name a few things.
According to Flanegin the team did the best it could but some players lacked the right attitude and missed a killer instinct. The team showed it was able to beat every opponent but due to the constantly changing lineup, the team could not make it to the Holland Series and finished third in the playoff group.
Another reason was the bad relationship with the board of the club. According to Flanegin is was hard to make an appointment with them and they did not show their face during games. The board on its turn denies these accusations.
Since there is no deal with a new main sponsor looming, players will leave the club for the 2018 season. This means the club will have to rebuild again.
Persistent rumors say the club will face the same problems as Kinheim did after the 2016 transition period but according to an insider, this will not be the case. If many players will leave the club, Pioniers will fill the void with youth players.
Despite his decision to step back, Flanegin still wants to be part of the club as he is a member for 26 years. He doesn't know yet in what kind of role.