In this episode of Ballparks around the world, we pay attention to the home of the Regensburg Legionäre (with 700 members, the biggest baseball club in Germany), the Armin-Wolf-Arena. The ballpark was constructed from September 1997 through July 1998.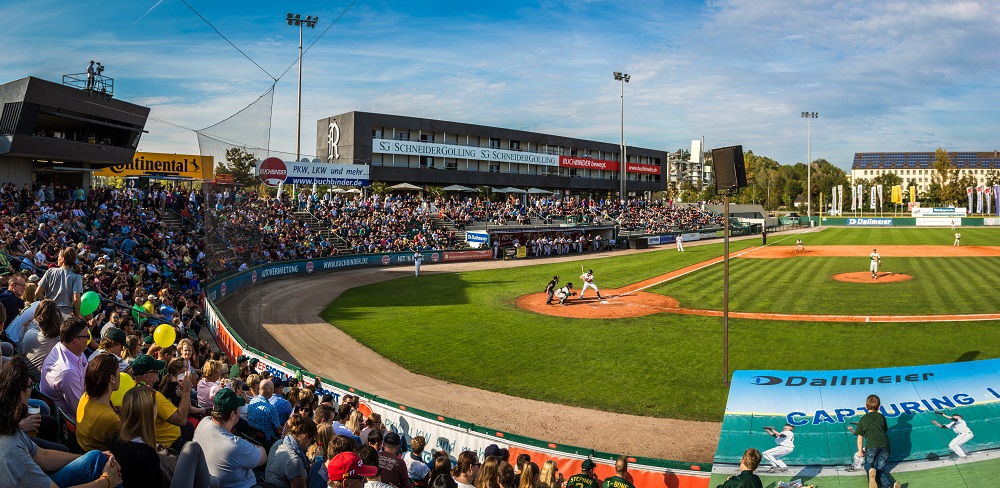 On September 8, 1996, the members of the Bavarian Baseball Federation held a special meeting in which was decided that the training facility for Bavarian baseball should be located in Regensburg.
After several approvals by the city of Regensburg and the state of Bavaria, the construction started and lasted for ten months and cost €1 million. The ballpark served for the facility where the 1998 European Cup Winners Cup was played, a nice way to open your ballpark.
Another highlight for the Armin-Wolf -Arena was the 2009 World Cup. For this occasion, the ballpark got a €1,4 million upgrade. The facility was expanded with new locker rooms and new restrooms. The seating capacity was extended to 11,500 with temporary bleachers. The four-day event drew 38,000 fans.
In 2004, the ballpark was the site of the preliminary round of the European Cup. But the biggest event that was held there was the 2012 preliminary round of the World Baseball Classic, which was won by team Canada as the beat Germany in the final.
Also in 2014, the site was home to a preliminary round of the European Cup.
Since 2010, the facility is used as an open-air cinema in the months of July and August.
In 2014 an apartment complex was built on the terrain of the ballpark. This apartment complex serves as the home of the baseball boarding school Regensburg.  A restaurant, named beach house, and the fan shop of the Legionäre are situated at the ground level of the building. The restaurant offers good meals for a decent price.
The dimensions of the diamond are:
Left field 98 meters (321 feet)
Center field 123 meters (403 feet)
Right field 98 meters (321 feet)
The ballpark has a capacity of 3,100, which can be expanded to 11,500 with temporary bleachers.
Next to the right field side of the ballpark, the club built an indoor pitching and hitting facility.
Even though baseball is a small sport in Germany, the Buchbinder Legionäre have a state-of-the-art facility.
All photos ©Dutch Baseball Hangout