Today in 1915, player-manager Fred Clarke of the Pittsburgh Pirates filed for the patent for flip-down sunglasses. These sunglasses, worn by outfielders to battle the glare of the sun, were to believed to be good for motorists as well. Future Hall of Famer Clarke would also file for the patent of sliding pads and a mechanical method of positioning the tarpaulin.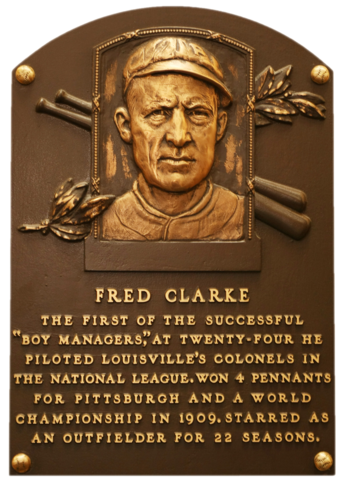 At the age of only 24, Clarke was one of the youngest player-managers ever. He was one of the so-called "boy managers."
As a manager, he was rather successful as his Louisville Colonels went from a seventh place to a second place in his first season as their manager. He also guided the Pittsburgh Pirates to the 1909 World Series win.
Ever since Clarke invented the flip-down sunglasses, the design hasn't changed a bit. Shades on the diamond used to begin and end with flip-ups with those big tabs on the side and the telltale strap around the back of the cap. Once, in the 1960s these flip-downs were considered so cool that, in 1969, a kids version was marketed by MLB.
The flip-downs were preceded by normal sunglasses. In the early days of baseball, it was not a common thing to wear sunglasses on the field. But eventually, in 1882, Providence Grays' Paul Hines was the first to do so. The reason behind this lies in the fact that the outfielder's defense was influenced by the sun glare. In 82 games, Hines committed 27 errors. Nevertheless, Hines recorded two Major League firsts: He made the first unassisted triple play and he was the first to win the Triple Crown. Despite a 20-year MLB career and a lifetime .302 batting average, Hines never made it to the Hall of Fame.
Nowadays, the flip-downs are mostly replaced by slick looking sunglasses made by Oakley or Nike, to name a few brands.